Question
I want to change the memory_limit of a virtual host in virtualmin. How can I do that?
Solution
First, login to Virtualmin on port 10000, now, select the virtual host from the dropdown under Virtualmin tab. Now under the services, there are PHP 5 Configuration and PHP 7 Configuration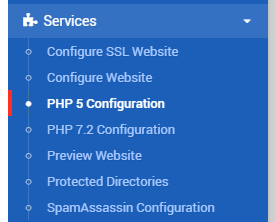 Click on the version you want to change configuration for. It will show you a list of options to change php variables.
Now there is 'Resource Limit', that contains the options like maximum execution time, or memory limit for PHP.

Now, change the 'Maximum Memory Allocation' option to something that you want to change memory_limit of php in virtualmin